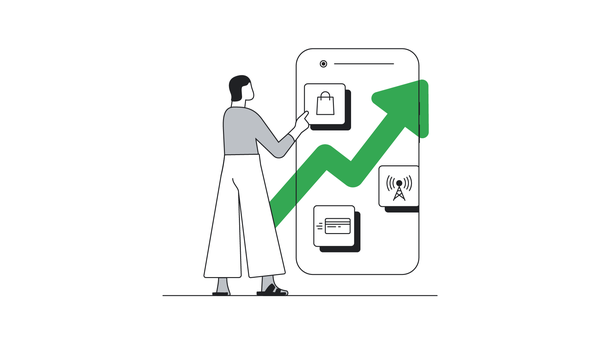 Being aware of user trends provides brands with actionable insights to elevate the quality of their retail strategy and mobile app marketing to meet evolving consumer expectations.
Here, we look at three ways businesses can increase brand engagement by creating apps that build preference, trust, and loyalty.
Convenience is king, but experience is queen
People value the convenience and accessibility of apps. Seventy-nine percent of the merchandise value of online retail comes from mobile apps.2 And a whopping 85% of app users from our study agree that apps are more convenient for shopping than going to a store.
But people are using apps for much more than simply making purchases.
On average, people carry out five to eight different activities each day on a retail app — from browsing products to redeeming rewards. Apps provide access to unique experiences that influence people's final purchasing decisions, even if they don't make a purchase on the app.
That's why building an immersive retail app that closely recreates the in-store shopping experience is key to building engagement and driving sales. Not least, when people are satisfied with the app experience, they're 56% more likely to recommend the brand to family and friends.
The majority of app users prefer the convenience of shopping on apps over going to the store